With the cold and wet Cape Town winter weather, we have all been wrapping up warm to protect us from the elements.
When you come into the practice, you have heard us talking about your sitting habits (if you haven't already, check out the home care videos) especially creating supported sitting positions with your wedge solutions, either with hand towels or wedges.
Here we are going to discuss this at an advanced level.
SITTING ON THE BACK OF YOUR COAT
When you sit on the back of your coat with it bunched up unevenly, it can cause a tilt and/or twist in your pelvis and spine, this causes your body then start to set up compensations to correct this tilt or twist. You may experience sciatic pain, back pain, neck pain or headaches as a result.
You might be thinking that a thin layer would not be enough to make such a big impact on your body however, when you did your 'sit test' at the beginning of your care you would have experienced this first hand.
DO YOU NEED TO BUY A NEW WINTER COAT?
No.
THE SIMPLE SOLUTION is to be aware that when you are sitting down you either take your jacket off or tuck it evenly underneath you so it is not all bunched up.
If you are reading this you probably already know forward = bad, backwards = good (read here if you don't know this yet) and how being pushed or pulled forward can result in neck pain, back pain and headaches.
Let's take this to the next level…
PUTTING YOUR HANDS IN YOUR COAT POCKETS
When you put your hands into your coat pockets you tend to bury them deep into the bottom of the pocket. This pulls the whole coat forward, especially the neckline which in turn pulls your neck forward. Heavy objects like cell phones, keys and wallets in your pockets can also create the same pulling effect.
This might seem like something small however, if we look at all the other things you are doing in your life that might also be doing this, it can have a cumulative effect on your posture and therefore your health.
DO YOU NEED TO BUY A NEW WINTER COAT?
No.
THE SIMPLE SOLUTION is to be aware when you put your hands or heavy objects into your pockets. You could invest in a nice warm pair of gloves and a bag to keep your goodies in.
WEARING A SCARF
A scarf can be great for keeping your neck warm during the cooler months, whether it's something light or a chunky knit. Whatever the material your scarf is made from it is good to be aware that it could also be pushing or pulling you forward.
A heavy scarf could have a similar affect as putting your hands in your pockets – see above – the weight of the scarf could be pulling on your neck. You could also be getting pushed forward when sitting in a high back chair while wearing a scarf.
DO YOU NEED TO STOP WEARING A SCARF?
No.
THE SIMPLE SOLUTION is to be aware when you are wearing a scarf. Choose a lighter material and take it off when you are sitting down.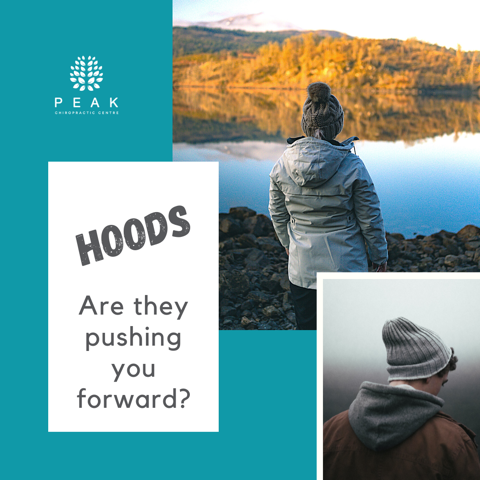 HOODED TOPS AND COATS
A hood can be great for protecting us from the harsh Cape Town wind and rain but it could be undoing some of the great work you have already been doing since you started care.
When your hood is at the back of your neck, due to the bulk of the material, it could be pushing you forward when you are in a car seat or other high backed chair.
DO YOU NEED TO STOP WEARING A HOOD?
No.
THE SIMPLE SOLUTION is to be aware when you are wearing a hood. You could take off the hooded item before sitting down or you could move the hood to the side of your neck so that it is no longer pushing you forward from behind.
If you would like more help with your sitting, sleeping and standing habits, book into one of our Better Results Faster workshops which are held twice a month at no charge for our practice members. Talk to the front desk team at your next appointment for upcoming dates and availability.
Please note that these are advanced level home care tips that supplement the basic home care tips for sitting, sleeping and standing for Advanced BioStructural Correction (ABC)™.